5. 2010 Los Angeles Lakers vs. 2010 Cleveland Cavilers
This NBA Final series in my opinion is a better matchup than the one we could of had in the 2009 playoffs. The reason is that both teams were the number one seed in both conferences, MVP Favorites, preseason favorites to win the 2010 championship and two great all-time legends. In addition, the narratives and storylines coming from this finals series would all be epic and hyped up to the roof from all the chatter throughout the basketball fans, media reporters, debaters, bettors, and players alike watching the finals series. Moreover, the narrative of Kobe versus Lebron would be the headline event and of course Kobe having a chance to win back-to-back without Shaq against Shaq on the big stage in the finals. My prediction for this series would be the Lakers winning in 7 games with Kobe Bryant being the Finals MVP in a tough tight series battle, where both supporting cast and players would be locked in and ready to win. I feel that the Lakers would win those tight close games down the stretch where a tough and crucial shot or play is needed to finish the job.

4. 2012 Oklahoma City Thunder vs. 2012 Chicago Bulls
Two young teams that were both upcoming a few years back coming into the 2011-2012 season. This dream NBA Finals Matchup is probably the most underrated one on this list with other ones I will present on this post. Anyway, for this matchup you got great stars and a bench on both sides which are Harden, Westbrook, Serge Ibaka, Reggie Jackson, Kendrick Perkins versus Luol Deng, Joahkim Noah, Kyle Korever, Jimmy Butler along with others that can contribute in this finals matchup. Of course, we got the two superstars'players on the court being reigning MVP Derrick. Rose and bonafided lethal scorer being Kevin Durant. Moreover, if these two teams matched up in the NBA Finals, I am taking the OKC Thunder winning in 6 games even though the Bulls have a great team with the reigning MVP. The Thunder have a better and deeper bench with great chemistry, and they can match the Bulls offensive game plan. The Bulls would give the Thunder a great fight in the beginning of the series but can't match with their opponents and unfortunately lose. Lastly, Kevin Durant is awarded Finals MVP and possibility the youngest in NBA History with his amazing performance.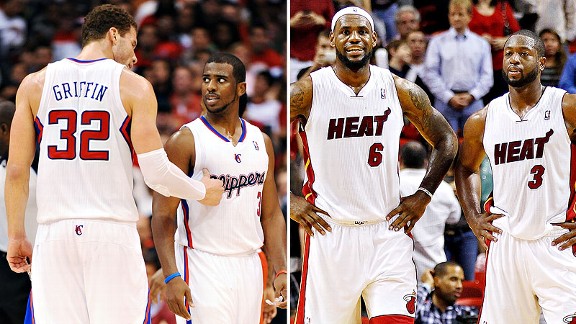 3. 2014 Los Angeles Clippers vs. 2014 Miami Heat
Here we go with this one being the LA vs. MIAMI NBA Finals matchup that would of been awesome to see on TV. I picked these two teams because it would be fun to see the Big 3 Lob City squad against the Big 3 Heat squad alongside their bench units. You would have CP3, Blake Griffin and Deandre Jordan against Lebron James, Dwayne Wade and Chris Bosh all in their primes with peak skillsets and athleticism. In addition, storylines of Chris Paul and the Clippers making their NBA Finals appearance with a chance to win their first championship while establishing their own legacy. On the other side, the Heat is trying to complete a 3-peat while establishing themselves as the best Big 3 in NBA history. So my prediction would be the Clippers winning in 7 while Chris Paul is the Finals MVP and gets his first ring to go with his great career. I know some people would pick the Heat, but I think the Clippers offensive plan along with their bench would exploit the Heat's defense as they can score in the paint or perimeter shooting the three pointer. Another great thing that would be fun to see is the crazy high flying dunks and posters that would be major highlights for everyone to watch on social media and post game footage.
2. 2016 Oklahoma City Thunder vs. 2016 Cleveland Cavaliers
The second rematch of Kevin Durant vs. Lebron James in the NBA Finals four years later with great anticipation built since the 2012 NBA Finals series. After the 2012 NBA Finals, basketball fans, casual fans, media personalities, bettors, coaches and players had debates and discussions of who was the better player between KD or Lebron and how they would lead their team in the regular season and playoffs. Having this series would be a potential classic with the possible matchups and epic moments from previous history being added on with a chance to solidify the career of the top 2 players in the league. In this series it is a tough and close one, so I would choose the Cavs winning in 7 with Lebron James being Finals MVP after an excellent performance with his team. I think they would win since Kyrie, Love and Lebron will find a way to beat and win against Westbrook, Ibaka and KD when push comes to shove and a clutch play matters down the final 4 minutes in a game.
1. 2017 Golden State Warriors vs. 2013 Miami Heat
Yes, Yes, Yes!!! Now this is a NBA Finals series that I wish we could see in person near the front row or on a giant flat screen TV with a great crowd atmosphere watching it together. If we had this final series, everyone in the world and their pet would tune in to watch this potential amazing historic classic NBA Finals matchup of the 2010s decade. We get to experience the top best team of each conference from the 2010s with both of them having a Big 4 starting line up, MVP players as well as future Hall of Famers who are big names in league history. If this series went down, I have to go with the Warriors winning in 7 with Steph Curry being the Finals MVP. If the Heat win, I wouldn't be mad since this series can go either way on the court with championship mentality showing up. #Greatestseriesever #NBA
Thanks for reading this blog post and have a great day! :)
---